How easy is for someone to go for a private sailing trip in the Greek islands? Are there myths or urban legends about a sailing cruise for you and your mate, your family or your friends?
No 1.
Myth: I cannot go for a sail cruise because i have never sailed before.
Fact: Sailing trips are for everyone. Skippered yacht charter is a perfect choice if you want to discover the Greek isles.Your skipper can sail you to your islands and get you familiar with the yacht.
No 2.
Myth: Private sailing cruises are expensive
Fact: In fact sailing cruises are cheaper if you take into account the costs of ferries and overnight stay in a hotel in the different Greek isles that you will visit. The cost per person/ per day for a skippered charter can be as low as 105EUR for a group of 4 in low season.
No 3.
Myth: Sailing is dangerous as a vacation choice.
Fact: All your skipper has to do is to respect the weather. The boats are extremely safe and can go even without engine. The sailing yacht is the most stable vessel.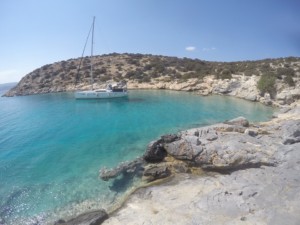 No 4.
Myth: You can not rest on a sailboat
Fact: Hire a skipper and you will have nothing to do except relax, swim, read, and discover the places you will visit.
No 5
Myth: I can visit almost all the Greek isles in a 7 days sailing trip
Fact: You can visit 6, 7 isles in a sailing trip. The Greek islands are more than 2000!
No 6
Myth: Sailing yachts use a lot of diesel and does not respect the enviroment.
Fact: Sailing trips are in fact one of the most enviroment friendly way for vacations. A sailing yacht can use as low as 0 litres to travel between islands.
by
Greek Water Yachts