Sailing holidays for families in Greece
Skippered yacht charter for family sailing vacations in the Greek islands is an ideal choice in case of families with kids who need a unique experience but also inexpensive family holidays in Greece.
In our company, Greek Water Yachts, we offer itineraries in Cyclades Islands Group in the Mediterranean – Greece – Europe, and activities in protected waters, shorter sails plus a wide variety of excellent anchorages and activities to choose from.
That's why the Cyclades it's a great pick for yachting holidays around Greek islands Greece for families & beginners.
Both parents and kids are rewarded by choosing a private skippered boat charter in Greece as their family sailing adventure choice:
Parents: Enjoy a sense of security with a professional crew involved in your kid's water-based activities. Be amazed at the amount of quality time you gain with your family during the sailing trip. With the responsibility for the boat, itinerary, daily activities, left up to the skipper – captain, you can relax and enjoy each moment with your family on a boat in Greece, but also discover the "real" Cyclades island hopping.

Children: A kid friendly, family tour with a small sailing boat in the Greek islands, creates a constant source of entertainment because of the island hopping visiting new islands every day. Except swimming in the crystal clear water and discovering the beautiful landscape, your kids are also going to learn sailing, teamwork, and discipline on a ship. Together we head for sandy beaches under the hot sun of the Aegean sea. Discover ancient myths, and bioluminescent bays
Sailing Greece Family – Gallery
Charter Prices & info – Family Greek Islands Vacation by Boat
Prices are for the Beneteau40:
Discount up to 300€ for week charters on certain dates. Contact us
Table: Prices for 7 days sailing boat rental in Greece with skipper.
A short guide to family life afloat
More for sailing with babies at blogger
Suggested itineraries for Greek family yacht cruise
Take a look at our suggested islands hopping and charter a yacht for your family holiday. Your skipper gives you the best directions according to your interests.
The itineraries for your private family yacht experience in Greece are always flexible and customized in your profile in order for your people to get the maximum pleasure out of them.
Hope to arrange your family sailing trip in Greek islands with a skippered private sailboat.
We came to the Greek islands as first-time visitors and first-time sailors and had no idea what to expect.

With a young family, we were nervous but as soon as we met captain Antonis our fears were allayed and the best holiday we have ever had began.

We loved the sailing trip, the secluded spots we were taken to the swim and snorkel, the unique, traditional towns on the islands, and the raw exposure to the Greek island culture.

Thank you, Antonis for understanding our needs and creating an unforgettable experience for our whole family.

From the Maccanti family – Australia

Adm, Heidi, Jack and Louis.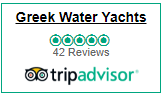 Year: 2010
Length: 40 feet
Crew:skipper
Base: Paros (Cyclades) yacht charter base
Cabins : 3 doubles Shower/Head: 2
Accommodation: 4 guests + skipper
Make your introductory reservation for your family sailing vacations, filling out the contact – booking form. Greek Water Yachts team will respond within 24-48 hours.
Faqs – Sailing Holidays Greece
Check out our questions and answers section about tips and deals for your family adventure boat trip on the Greek isles.