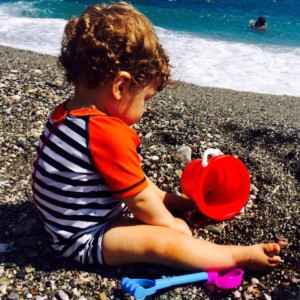 The items that guests bring with them during skippered sailing holidays in Greece may differ based on various factors such as the type of sailing, sailing location, their skill level, and personal preferences. Nevertheless, we aim to offer some suggestions for those who are uncertain about what to bring, by highlighting some useful items to have during a sailing trip in the Greek islands.
Clothes
If your vacation falls between mid-May to end of September, you don't need a lot of clothes! Swim suits, towels, some T-shirts and shorts and casual dressing for the evenings and night walks.
What might be useful is to carry with you a windproof jacket just in case of stronger winds.
On the boat you will be barefoot. Don't forget to bring a sun hat, dark sunglasses and of course a lot of sun blocker for protection from the sun. Reflection from the water means that you take in plenty of sun while on-board your skippered sailing boat.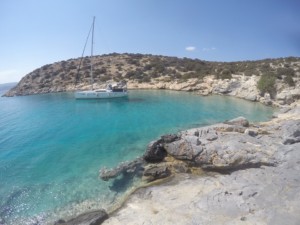 It is always a great idea to pack in soft luggage instead of hard suitcases as hard cases are harder to be stored on the sailboat.
Toiletries and medicine
Most brands of soap, shower gel, shampoo, sun block etc. are sold in Greece though they must be a little costlier if you buy them from the little harbor-side retailers.
If you're taking prescribed drugs, it's recommended to bring enough with you for the period of your holiday. though all our yachts have a basic aid kit, it's a good idea to hold travel sickness pills, antiseptic cream, insect repellant and an antihistamine cream/gel for insect bites
Food
You can find almost anything you need in the supermarkets in Greece. If you have got food allergies (milk, gluten, etc.) it's well to bring the substitutes on your own as maybe you may not find them in the tiny retailers in the small islands you will visit.
Documents & currency
You will of course want your passport or ID card (EU member countries). If you're from a non-EU country you should see your Greek diplomatic building on whether or not you would like to use for a visa
If you plan to rent an automobile, motorcycle or different vehicle while on vacation you ought to conjointly bring your license. Your personal vacation insurance documents and if you're from a eu-worker country, the EU medical card ought to be enclosed in your baggage.
We suggest that you just bring a mix of money alongside your credit cards. Most of the time, you'll be able to use bank ATM money. You can use credit cards in retailers and restaurants in most of the islands you will visit.
Remember that the tinier and a lot of remote ports could don't have any banks; in small taverns credit cards might not be accepted. It's so a decent plan to hold enough money to shop for daily provides
What is included & you don't need to bring on a skippered charter
All bed linen and blankets, although you are unlikely to need them!
We provide bath towels but not beach towels
Read on for top tips on what to bring, what not to bring and you will be sure that you will enjoy a worry free skippered yacht holidays in Greece.