Greek island sailing cruises
Start your Greek island sailing cruise from the center of the Cyclades islands in the Aegean sea and set sail around the Greek Islands.
Greek Water Yachts, an eco-friendly sailboat rental company, offers crewed (skippered – captain) private charter sailboats for your sailing trip in Greece, based on Paros island in the very center of the Archipel of the Cyclades.
Our small fleet of modern yachts can accommodate 2,3 or 4 guests, are maintained to the highest standards of safety and comfort, and staffed by an exceptional crew(captain – sailor)with many years of local knowledge and experience and they will guide you safely in beautiful places.
Our private yacht tours from Paros island, are designed to avoid long, exhausting sailing legs and exposure to inclement weather – ideal for the experienced sailor and beginner alike.
If you are a group of 5, 6 or more persons looking for skippered Greek island catamaran cruises, skippered sailboat charter, we can also arrange this jaunt for you from our associates.
prices 2017 for a Greek Isles sailing vacation- Cyclades
Sailing Cyclades Islands – Greece
The beautiful Cyclades islands form a circle around the sacred island of Delos where – according to Greek mythology – Poseidon, God of the sea, furious at the Cyclades nymphs turned them into islands!
The Cyclades island group is a perfect choice for your inter-island private expedition with a skippered sailboat charter in Greece.
What to expect:
plenty of islands and places to visit

inter island short sails

protected waters

unique nature and beauty of the landscape

perfect climate

adventure vacation in cosmopolitan places or isolated ones
That's why Cyclades is an area that you must explore with crewed sailboat charter.
That's why Cyclades Isles are the synonym of Greek Summer Vacation and one of the best places for a private voyage with a sailboat in the world.
That's why renting a sailboat with skipper from the isle of Paros is the ideal starting point for your private cruise in the Greek islands.
Sailing excursion with skippered sailboat charter in Greece – Best way to visit Greek islands
Navigate our website and read more about your Greek seafaring, and do not forget what private charter with a small boat offers:
a 24/7 sea view

swimming off the back of your yacht in warm, clear waters

tour and explore a different island, harbor or bay every day

always a waterfront table or magnificent view, no tourist crowds or queues

spend evenings ashore and enjoy the best tavernas, restaurants and cafes

visit beautiful natural bays only accessible on a yacht for lunch, swimming, snorkeling & relaxing

no fixed itineraries – you decide the pace, where to go and when

a fun, romantic or relaxing escape

costs no more than a holiday in a hotel room because of saving money for your accommodation, meals, and tickets. Cheap sailing with skipper Greece Cyclades

a green friendly vacation
Vacation with
skippered sailing yacht
is for everyone and can be adjusted to your expectations and needs. Find your profile bellow and learn more about your trip options or even propose a new one.
Short Sailing Holidays in Greece
Usually, we offer 7 days journeys with a private boat around the Greek islands, but depending on availability and the time of year you may book for 1 day, 2 day or 4 days private sailing cruise with a sailboat from Cyclades – Paros charter base.
The advantage of Paros is being located exactly at the center of the Cyclades with so many islands around, an ideal starting point for your private Greek island sailing cruise.
This gives you the opportunity to sail out at sea every day, no matter where the wind blows from, making your Greek islands hopping a dream.
There are so many choices and so many anchorages to stay even in very rough conditions, therefore your Greek islands sailing cruise is safe and enjoyable even for not very experienced crews.
Charter one of our yachts and follow your Cyclades islands itinerary
"Greek Water Yachts" fleet consists of two new self-owned Beneteau's Oceanis 40 with a captain, and 2 more vessels from our associates(up to 8 persons catamaran, monohull), for Greek sailing excursions.
The Beneteaus Oceanis 40 yachts are exactly the same and they are in excellent condition.Oceanis 40 is really very beautiful.
If you decompose Greece, in the end you will find yourself with an

olive tree,

a vineyard

and a boat,

which means: with those you can compose it again.
Greek islands yacht holidays prices 2017
Prices for your 7 days Greek sailing vacation with the Oceanis 40 sailboat (2 – 4 guests) depend on the number of persons and the time period you choose for your trip.
prices 2017 for a journey through the Greek Islands on a charter sailboat
In case you are more persons or looking for a catamaran, take a look on prices at
8 persons Greek islands skippered yacht
or
Sailing the Greek islands reviews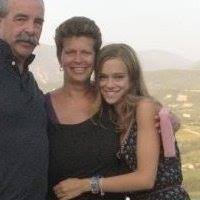 "Perfection!!!"
Our sail through the Cyclades with Greek Water Yachts was perfection from beginning to end and I cannot recommend them highly enough. A few reasons why:
– throughout the planning process, Apostolos promptly answered all of my emails and my many questions so I felt at ease navigating a new adventure.
– our captain, Antonios, put us at ease from the first moment we stepped on the boat and became a good friend and expert guide for our week-long sail.
– the boat was in wonderful condition and exactly as expected.
– we charted our itinerary with the captain, ensuring we felt in control at all times. He expertly explained the pros and cons of suggested routes and then left the decision to us.
– Antonios knows all the special, local places to go and instinctively knew what we'd like, how much privacy we needed, and how to ensure our trip fit our needs.
I can't say enough good things about the Greek Water Yachts experience.
Whether you own a cruising schedule during your previous Greek Islands sailing adventure or need recommendations for your first private sailing trip in Greece, send an inquiry on Greek Water Yachts to get customized choices, prices, plan and guidance for your slow travel voyage.
You will be better informed with the info you'll get.