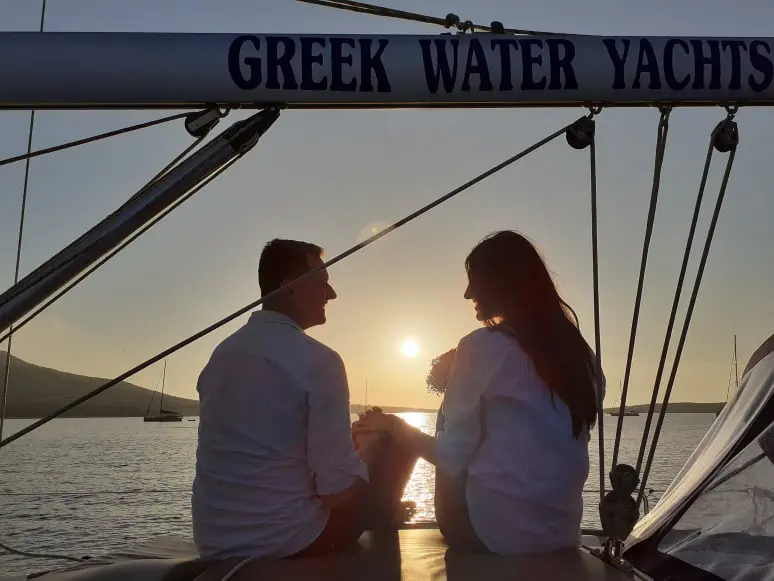 Sailing honeymoon vacation Greece
A Greek island boat adventure during your honeymoon is the perfect way to experience what many consider the world's most beautiful islands.
Honeymoon sailing vacations in the Greek islands (Cyclades), is a great offer to the sidekick of your life, and a totally remarkable, carefree, romantic trip to Greece. Perhaps the best starting for your new life.
We will verify you have all that you need and at the same time, we guarantee the privacy that is required for this unique excursion.
Cruising for newlyweds is a great experience:
you will find a bottle of good wine, honey and nuts, in your welcome on the board

just the two of you on board of our yachts you will discover the best beaches for honeymoon under the hot sun of the Aegean Archipelagos

swimming in the crystal clear water , snorkeling around and experience the hospitality of the locals at all the small islands we will visit

try the delicious dishes of seafood and all the local recipes at the recommended tavernas

participate in sailing if you like or just relax and let the crew do everything for you.

explore every day a new romantic island like Pano Koufonisi or Santorini, drive around with a rental or go jogging, hiking, cycling, diving
Take a look at our suggested itineraries and charter a sailboat with skipper for your honeymoon with adventure and relaxation in the Greek islands.
Gallery-Honeymoon Sailing Holidays Greece
"The Mediterranean has the color of mackerel, changeable I mean. You don't always know if it is green or violet, you can't even say it's blue, because the next moment the changing reflection has taken on a tint of rose or gray."
– Vincent van Gogh
Charter Prices & info – Private yacht honeymoon Greece
Prices are for the Beneteau40 for a week cruise:
Discount up to 300€ for week charters on certain dates. Contact us
Greece honeymoon itinerary
The itineraries are always flexible, customized in your profile in order to get the maximum pleasure out of them.
Your skipper will give you the best directions according to your interests. We are absolutely sure that you will have such a good time that you will join us again.
Check the suggested routes below and enjoy a romantic Greek island sailing honeymoon in the Cyclades area.
We sailed with Greek Water Yachts for our Honeymoon and loved every second of it. It was a unique way to experience the Greek islands that will make you laugh at those who only understand the Greek Islands as Santorini and Mykonos. The islands we went to were local, intimate, and each had its own character. Words can't describe how great the food was throughout our trip. Each restaurant sourced their food from local lands/waters and thus each unique flavors and specialities. If you are a foodie you will not be disappointed. The boat itself is very safe, modern and comfortable. There is a rustic element to living on a boat for 6 nights but nothing beyond what should be expected. We were able to stay well rested, fed, and showered using facilities.

http://greekislandssailing.com/sailing-greek-islands-reviews/
Year: 2010
Length: 40 feet
Crew:skipper
Base: Paros (Cyclades)
Cabins : 3 doubles
Shower/Head: 2
Accommodation: 4 guests + skipper
Make your introductory reservation request for your Greek private yacht honeymoon by filling out our contact – booking form. We will respond within 24-48 hours.