Sail in Greece Reviews – Sailing Greek Islands Trustpilot – Google Reviews – TripAdvisor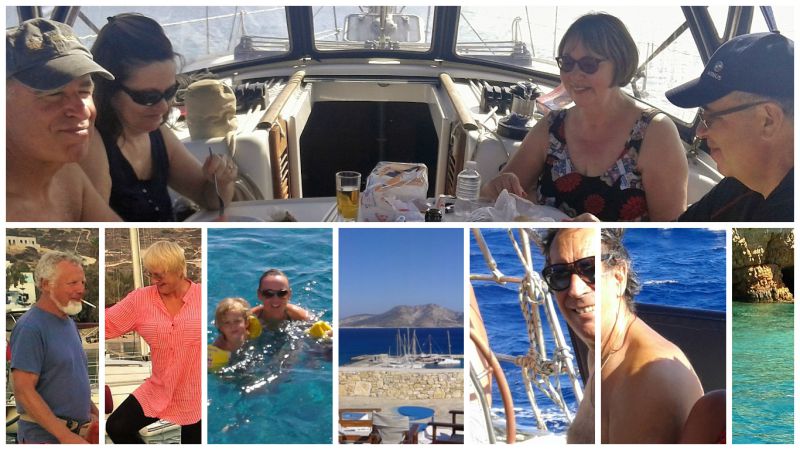 Great choice to visit greek islands on a sailing boat
We had a wonderful time onboard! Antonios was exceptional designing the trip according to our preferencies and making it a genuine greek experience, day by day. He cared about giving us all the privacy we needed to live it like a family holiday and we immediately felt at home. Our teenage daughters also enjoyed every minute. We had the chance to visit many islands and secluded spots, only known by a few. We also got great tips for visiting the islands and enjoy the best restaurants. We will definately be back on a sailing trip with Antonios!
https://www.tripadvisor.com/ShowUserReviews-g642171-d6827670-r855561700-Greek_Water_Yachts-Parikia_Paros_Cyclades_South_Aegean.html
This was the highlight of our trip to Greece and the best way to explore the Cycladic Islands! Everything is upfront and professional with this local company – from booking and payment via email, to the actual sailing and enjoying the beautiful towns and islands. The captain did a fantastic job of giving us space and privacy when wanted and being there to answer questions, recommend restaurants, and coordinate with the local towns for activities during the day. There is no better way to visit the beautiful and slower-paced small Cycladics. Don't miss an opportunity to book a truly unforgettable trip with Greek Water Yachts!
Date of experience:
June 2022
Amazing!
This is the best company, the best staff, the best boats, and the best islands in the world.
I highly recommend anyone seeing the Greek Islands by Greek Water Yachts. My family of 5 + my parents took a boat for 4 days and visited many islands.
Recommendation: trust your skipper and just go wherever he says is the best.
We just returned from an amazing week on Andreas (Beneteau 40 mono-hull) with Antonis as captain. Antonis is a great captain and a wonderful human, and we would book this trip again just to spend another week in his company. It was just the right balance of sailing, swimming, and island hopping for both of us. My husband is more "active", and he enjoyed being able to help sail the boat and the frequent opportunities to swim and hike. I enjoyed the quiet time on the boat to just sit, read and journal. We both loved the port visits and local experiences and recommendations. In short, we cannot remember a trip that left us so relaxed and refreshed. We are smiling just thinking about it. 11/10.
Date of experience: September 21
https://www.tripadvisor.com/ShowUserReviews-g642171-d6827670-r765953088-Greek_Water_Yachts-Parikia_Paros_Cyclades_South_Aegean.html
Absolutely incredible experience
Absolutely incredible experience with Antonis sailing for 5 days around the Small Cyclades. Perfect for a honeymoon or family trip. We departed from Paros and visited Iraklia, Koufonisia, Antiparos, and Naxos. Each visit was unique and renting a private charter is really one of the best ways to see all of Greece. Antonis was extremely skilled and knowledgeable, previously captaining the large ferries from Paros and other islands. He is extremely familiar with the area having over 20 years of sailing experience and I trust him completely. Truly life changing trip.
Fantastic holiday experience!
We booked a catamaran from Paros with Greek water yachts in august 2020 for a family of 4 (2 kids, aged 9 and 11) and it was a lovely experience! The trip was very well organized, the company provided us with all necessary information and details (as it was our first time on a sailing trip), easy to communicate with and a warm welcome awaited us. The captain of the boat (Thanasis) was a very nice and experienced person, good with kids, he respected our privacy and took well care of the catamaran. We had an amazing time in a beautiful region of Greece. Highly recommend this company to book your sailing trip with!
Date of experience: August 2020
https://www.tripadvisor.com/ShowUserReviews-g642171-d6827670-r765953088-Greek_Water_Yachts-Parikia_Paros_Cyclades_South_Aegean.html
Cancelled due to covid 19
We booked a charter for Sept 2020 but sadly had to cancel due to covid 19. Apostolos was wonderful from the start. It feels risky to just pick a holiday online & send in your money, but Apostolos was so helpful…I felt very confident in my choice from the beginning. He was always very quick to respond to questions, & our refund came quickly with no problems. We will definitely rebook this trip with GWY as soon as we can & I am looking forward to planning it with Apostolos again.
Date of experience:
June 2020