Jeanneau519 / up to 10 guests cruise / Paros charter base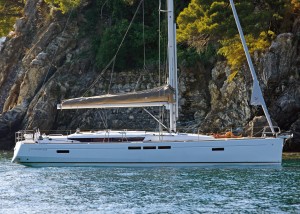 Are you looking for the ultimate sailing vacation in Greece? Look no further than the Jeanneau 519!
The Jeanneau519, latest addition to our fleet from our associates(check FAQ section about associates), is here to meet the growing demand for sailing charters from Greek Water Yachts.
No matter what your preference is, whether it is relaxing with a book, enjoying a meal with family and friends, or simply taking in the stunning views, the Jeanneau 519 range caters to all your needs. Designed to offer the perfect environment to unwind, this sailboat ensures that you can enjoy your sailing vacation in Greece to the fullest.
Built with the latest advancements in naval architecture and design, the Jeanneau 519 embodies everything that a guest could desire. Exquisite design merges stunning aesthetics, exceptional seaworthiness, and unparalleled comfort. The high aspect ratio rig is versatile and adaptable to various sailing styles.
This sailboat boasts a powerful and modern hull that provides both speed and stability on the water. This makes it the perfect vessel for both cruising and racing.
The safe and ergonomic cockpit, complete with lines led back to both helm stations, ensures that you can enjoy your sailing vacation with ease and in complete comfort.
Boasting a multitude of ports and hatches, the interior is bathed in natural light and provides excellent ventilation, making it the perfect retreat after a long day of sailing.
Designed with your comfort in mind, the saloon is divided into 4 distinct zones that can be used independently without constricting movement throughout the interior.
With a focus on luxury and style, the interior is finished with solid wood, matte varnish, polished stainless steel, leather, and a full selection of interior fabrics. And with all the key features plus a range of other options to choose from, you can tailor your sailing experience to your exact needs and preferences.
This skippered sailboat can accommodate up to 10 persons + skipper. Perfect for family holidays, for a group of friends.
Each of the 4 cabins that are available for the guests has a double bed, fan, reading lights, hanging locker & plenty of storage. There are 3 wc/head for the guests and extra skipper cabin
There is air conditioning , Hot Water, Radio CD player, MP3 Speakers in cockpit & saloon and TV 32 inch
The galley is fully equipent with Nespresso Machine Refrigerator 175 lt (Vertical door for fridge), Microwave, Toaster Electric Fridge 12V Gas Stove Oven Freezer 80 lt
As private sailing cruises around the Greek islands have specific needs, we've equipped our sailboat with AC power production and a water maker. This allows our guests to enjoy more heavenly anchorages, without the need to stopover in full ports.
The careful maintenance at the pits stops between charters at our base warrant you a superbly maintained yacht for your sailing vacations.
While some may choose to replace boat parts only once they fail, we take a different approach. Our boats are maintained like airplanes, with parts being replaced before they fail. This proactive maintenance approach helps ensure that our boats are always in top condition and ready to take on any adventure on the Greek seas.
Although maintaining our boats in this manner may come at a slightly higher cost, it ensures that our boats never become immobile due to gear failure. We frequently replace small items to keep them in pristine condition, so you can enjoy your sailing vacation in Greece without any interruptions.
by
Greek Water Yachts
conforms with all national and international regulations for the safety of life at sea

accommodation up to 10 + skipper

Double bed 4 + Bunk Beds 2+Skipper Cabin Bunk beds 1 Skippers Toilet 1

Showers 3 Electric Toilets 3

autonomous AC +water power production

bed linen, bath towels provided

AC current yes (for small devices)

aircondition yes, fans yes, in all cabins

CD player, MP3 Speakers, in cockpit & saloon, TV 32 inch

Nespresso Machine Refrigerator 175 lt (Vertical door for fridge) Galley Fully Equipped Microwave
Toaster Electric Fridge 12V Gas Stove Oven Freezer 80 lt

a large cockpit with table for 10 guests
Photos of your Jeanneau519