Lagoon 39 Catamaran / up to 8 guests catamaran cruise / Paros charter base
A skippered catamaran charter in Greece is a great pick for those who search for a vessel with plenty of internal space and added luxury during their private sailing vacation in Greece.
This Lagoon 39 skippered catamaran from our associates(check faq section about associates) is located on Paros island and can accommodate up to 8 persons. Consequently, she is perfect for private family cruises, for a sailing adventure with your friends, or a romantic catamaran cruise in Greece for two.
Her owner is at the same time and the permanent skipper. This provides guests a guarantee of the constant maintenance of the boat, a highlight of the quality of our work.
With two separate living areas on either side of the main salon, the catamaran also offers a much larger aft cockpit for lazing around and large eating areas in the salon which have wonderful views of the surrounds. There is a large safety net on the bow of the yacht for lounging and view dolphins.
Cockpit and saloon are on one level. The port side galley faces aft with a large opening window enabling the chef to mingle with friends & family while preparing meals. The galley is well equipped with double stainless steel sinks, stove, oven, refrigerator, and ample storage. The navigation station to port is side facing and provides excellent visibility. The salon is "L" shaped with a large dining table and comfortable seating.
Each of the four cabins has a double bed, fan, reading lights, hanging locker & plenty of storage. The cabins have incomparable natural lighting thanks to the fixed hull windows, together with excellent ventilation thanks to the deck hatches and portholes that open out to the hull side.
The heads, located mid-ship in each of the hulls, are a good size with a separate shower compartment.
With this boat, you can be assured that you will have the amenities and space to entertain yourself and your guests during your Greek island catamaran hopping. All of the yachts have stereos with speakers wired for inside and outside use on the boat. Each boat also has a galley equipped with a refrigerator, stove, oven, microwave, and sink, as well as pots, pans, and dishes.
GREEK ISLANDS CATAMARAN SAILING TRIP
by
Greek Water Yachts
About the Lagoon 39 catamaran
Lagoon 39

Conforms with all national and international regulations for safety of life at sea

Year 2015

Length 39 feet

Accommodation up to 8 + skipper

Double cabins 4 + 1 Skipper cabin

Toilets 2 +1 for the captain

Fully equipped Galley

Saloon

Bed linen, bath towels provided

AC current yes (for small devices) + Solar panels supply electricity all the sunny days

Fans yes, in all cabins

A radio CD player where you can connect your IPOD

Speakers located in the cockpit

A large cockpit with table for 8 guests
At the end of the day, the goals are simple:

long lasting memories and safety
Photos of your Lagoon39 catamaran
How much to rent a catamaran in Greece
Prices for your 7 days Greek island catamaran hopping depends on the time period you choose for your tour.
prices 2023 for a Greek island catamaran cruise
Discount up to 500€ for week charters on certain dates. Contact us!
Our offers are non-binding and subject to change.
2023 Price Table: Catamaran charter in Greece with skipper for a week.
Meet the captain of Lagoon39 catamaran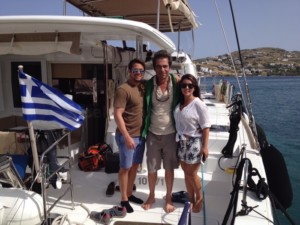 Nikos is the skipper and owner of the Lagoon 39 catamaran and was born in 1966 in a family of merchant marine sailors.
He is a sailor since his childhood.
He is more than 20 years in the charter business. As a captain he has safely navigated all kinds of yachts, he has worked with almost all big charter companies, and he has sailed like a charter captain in all sailing areas in Greece and the Mediterranean coast.
After selling all his property he bought a 39 feet Lagoon cruising catamaran.
Antoni owner of Greek Water Yachts, one of the best family companies for private sailing trips in the Cyclades (Niko's opinion), invited him to Paros, to add the Lagoon catamaran in his fleet as an associate. He accepted with enthusiasm because Nikos believes that the Cyclades islands are the best sail vacation area on all Mediterranean coasts, and especially Paros is the best starting point for a Greek island catamaran hopping due to its strategical location.
Nikos found this as a unique opportunity to do what he loves best.
He promises to his guests the best Greek island vacations by catamaran
Photo gallery for skippered vacations in Greece with a catamaran
Greece from Mallory Stutzer onboard the Lagoon39 Catamaran from Greek Water Yachts for his family Greece trip 2018
"This Girl"- The Kungs
Mallory Stutzer
The boat worked really well for our family with two areas to eat and play cards and each of us with our own room. The kitchen was user-friendly with everything we needed!
Nikos let our son drive the boat as much as he liked. We all missed our boat and Nikos after that portion of the trip was over!
"A fantastic week with Nikos!"
June 2017
We spent a relaxing, sunny week on the Lagoon39 catamaran with Nikos in June. We were a family of 4 (2 boys, 9 and 12). Apostolos was very helpful in making the arrangements and answering all of our questions to prepare for how it works and what to bring as it was our first time chartering a boat. What a wonderful experience!
Nikos had me steering on the first night and we went to beautiful places we wouldn't have otherwise experienced. Our itinerary took us to Antiparos the first night, which has beautiful restaurants and shops. Then we visited Serifos, Sifnos, Milos, and back to Paros and Antiparos for our last night (we liked it so much, we were happy to go back). Nikos took us to remote places where we were often the only ones there. Made sure our boys had lots of time to swim and explore. He helped us use the stove and equipment and made us feel at home on his beautiful boat. We had plenty of space and time to swim, play cards, read, visited cute towns at night for dinner.
Greece is beautiful and you'll see parts of Greece not often visited by non-Greeks. Milos had so many special moments including Sarkiniko Beach (moonscape) and Kleftiko where we spent the night–the kids' favorite night when they slept outside under the stars. Thank you, Nikos and Apostolos, for a memorable family vacation!
September 2016 We really wanted to thank you because we spent a great holiday! Not being used to the sea we learned a lot and felt really comfortable with Niko who is a great professional and did everything for us to have a great time. The boat is really well maintained and is perfect for a family trip. For sure we will recommend to our family and friends holidays on the Lagoon39 catamaran! I'm sending you some pictures enclosed but I will send you one or two more emails because the pictures are too heavy. Thank you again for everything we had a really great time! Emmylou [Switzerland]
June 2016 We just returned from a wonderful trip to Greece. Without a doubt, our catamaran cruise was the highlight of this trip. We were six passengers (dad, mom, our three daughters – 24, 13 and 9 years old – and the spouse of our oldest) plus our skipper Niko. But the most incredible thing is that we came back seven: we have a new friend now. Niko is not only an extraordinary skipper but a passionate, generous, friendly yet unobtrusive host. We very much appreciated our daily discussions with Niko about our next destinations, and especially what he said when we asked for information on places off: "I have no opinion on that". However, the next morning everything was prepared so that we can see the places we wanted to discover with pleasure. We saw breathtaking landscapes, crystal clear water of a turquoise blue, caves, deserted beaches, lively villages, all of which we captured on some 2000 pictures. Niko, thanks again for this wonderful trip, we're still talking about it with a lot of emotion. You contributed a lot to make this journey magical. Michel, Josée, Kim, Chloe and Sam Maude [Quebec, Canada]
Make your introductory reservation request for a Greek island hopping with catamaran by filling out the contact – booking form. We will respond within 24-48 hours.
Faqs – Sailing Holidays Greece
Check out our questions and answers section about common questions concerning your Greek island private catamaran hire from Paros
by
Greek Water Yachts