Lagoon 42 / up to 8 guests cruise / Athens charter base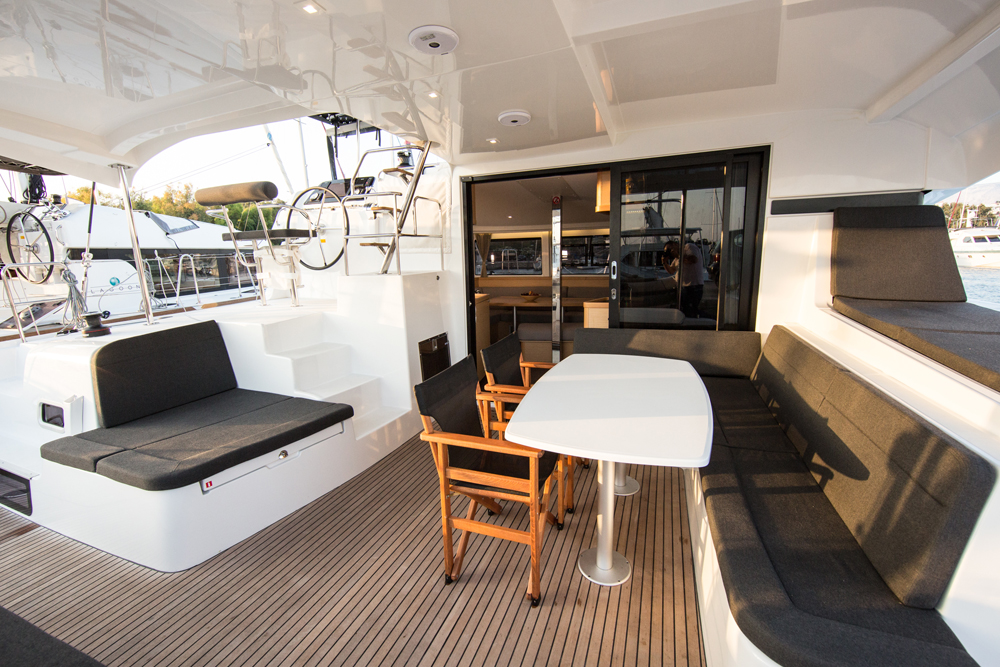 The Lagoon 42 catamaran, the latest addition to our fleet from our associates(check faq section about associates), is here to meet the growing demand for sailing charters from Greek Water Yachts. Is available for rent in Greece and the Greek isles
The Lagoon 42 catamaran, an invitation to travel and enjoy life's pleasures in comfort and style.
On the interior, they feature clean lines and a spacious open layout. She offers a harmonious design for easy handling and enjoying life on board.
With 4 cabins, it has the ability to cater to up to 8 people overnight. This makes it the perfect choice for family sailing holidays and large groups wishing to charter the region.
Each of the 4 guests' available cabins has a double bed, fan, reading lights, hanging locker & plenty of storage. There is 4 WC/head for the guests and 1 for the captain.
Aircondition is available on the boat for hot summer days.
Since private sailing cruising around the Greek islands have explicit needs, we've equipped her with AC power production and water maker, releasing her from stopovers in full ports and providing her guests' more heavenly anchorages!
Book online with greekislandssailing.com and set sail from Athens yacht marina for a great sailing holiday hopping around the Greek islands on a beautiful catamaran
Catamaran sailing trips in Greece
by
Greek Water Yachts
conforms with all national and international regulations for the safety of life at sea

accommodation up to 8 + skipper

double cabins 4 + 1 Skipper cabin

Air condition, in all cabins

toilets 4 for the guests&skipper

autonomous AC power production

bed linen, bath towels provided

AC current yes (for small devices)

a radio CD player where you can connect your IPOD

speakers located in the cockpit

a large cockpit with table for 8 guests
Photos of your Lagoon 42 catamaran
2023 price list for a week cruise with the Lagoon 42 catamaran
Prices for your 7 days sailing the greek islands on a catamaran depends on the time period you choose to sail.
prices 2023 for a crewed sailing cruise in the Greek islands
For 2023 this catamaran is no more offered
Our offers are non-binding and subject to change.
2023 Price Table: Catamaran charter in Greece with skipper for a week.
Faqs – Sailing Holidays Greece
Check out our questions and answers section about common questions concerning your Greek island private yacht hire.
by
Greek Water Yachts